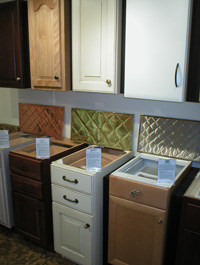 Understanding cabinetry grades is the first step in choosing the right cabinetry for your new kitchen. Regardless of your budget, Coastal Kitchen and Bath Designs ensures the best value for your cabinets. There are four grades of cabinetry; Production, Semi-Custom, Popular and Furniture. Here you will find an overview of each, but we invite you to visit our showroom (1 York Street, Suite 102 in York) to examine each grade for yourself on our Cabinet Comparison Wall.

Production Grade
Production Grade Cabinetry is primarily framed construction, with a minimum number of styles, acceptable finish quality, limited accessories and customization, limited finish selection, manufactured for delivery within 2-4 weeks.
Kabinart produces beautiful cabinetry with quality American craftsmanship to add distinction to your Kitchen and Bath at affordable prices. Key features include:

3/8" laminated plywood box.
1/2" plywood drawers, undermount epoxy-coated drawer glide. Upgrade to dovetail available.
Knife hinge on traditional overlay. Concealed cup hinge on full overlay.
Furniture finish on all wood doors and frames. Natural maple laminate interior.
Short lead time.
Low Cost.
Semi-Custom Grade
Semi-Custom Cabinetry is higher in quality than Production Grade and offers a wider selection in styles, finishes, and accessories, some customization (at higher costs than Production Grade), and delivers in 6-10 weeks.

Dura Supreme Company combines elegance with all the modern conveniences to produce a customized Kitchen and Bath with handcrafted workmanship including:
1/2" plywood box, Supreme coat laminate or maple plywood interior, mortise and tenon frame joints.
5/8" thick solid Maple dovetailed drawer with natural finish, tongue and groove joined, epoxy coated side mount glide. Upgrade to full extension or Blumotion under mount drawer slides available.
Knife hinge on 1/4" overlay and 3/8" recessed; Compact hinge on full overlay; Decorative barrel or concealed hinge on beaded inset doors.
Furniture finish on all wood doors and frames, Supreme coat laminate wood veneer interior.
Custom paint options, increased flexibility in design.
Popular Custom Cabinetry
has higher quality exterior features including a wider range of styles, wood species and stains. Additionally, popular grade cabinetry comes with both framed and frameless options. These products are also suitable for other room applications. Delivery varies from 6 to 12 weeks.
Jay Rambo provides:

1/2" plywood box, birch veneer interior, improved interior finish, hardwood face frame.
5/8" solid maple hardwood drawer, standard dovetail joints, epoxy-coated solo under mount glides. Upgrade to full extension under mount glides available.
European compact hinges.
Furniture finish to all wood doors and frames.
Custom paint options, glazes.
Increased flexibility in design, countless options. Superior finish techniques.
Eurostyle frameless upgrades available in melamine or natural maple plywood feature dovetail and under mount glides.
Longer lead times.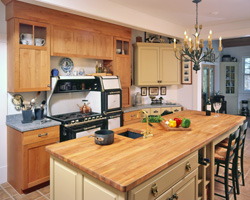 Furniture Grade Cabinetry
has superior quality in interior and exterior construction. This grade is best known for its unique cabinet styles, quality of painted and unusual glazed finishes, excellent interior accessories and many options.
Delivery will range from 10-14 weeks
The exquisite line of Furniture Grade cabinetry featured at Coastal Kitchen & Bath Designs is Christiana Cabinetry. A fully custom furniture manufacturer from the heart of Lancaster County, Pennsylvania, Christiana Cabinetry features uncompromising quality, workmanship and:

Premium solid wood construction, mortised and tenoned, ¾" veneer core white birch plywood.
Drawers are 5/8" solid maple with dovetailed joints. Bottoms are birch veneer. Natural finish interior. Euro style metal drawer box available.
Concealed under mount slides; full extension undermont, Tandem Motion.
Superior furniture finish to all wood surfaces.
Complete design flexibility– frameless or framed construction available. 10-14 week lead time.